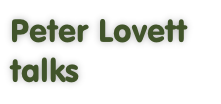 Web master; peter lovett designs

News
October 2015
New Talk
"The National Orchid Garden of Singapore"
Up to 50 minutes of stunning orchids as you are walked around this spectacular garden using interactive graphics. Relax and enjoy without the tropical heat and humidity.
More New talks
The Native Orchids of Sussex, Surrey, Kent and Sutherland. Click here for details
Damselflies and Dragonflies. Click here for details


"The Natural Year in Focus; January to June"
When trees are leafless and flowers scarce, the beaches and harbours of Sussex are wonderful places in January to see winter visiting birds... and not just gulls. Then comes the explosion of Spring flowers including lots of orchids (e.g. White Helleborine, right) and insects when a pair of mating damselflies meet a grisly end. All is revealed month by month in this talk.
Winter – a time for winter migrants from the frozen North.

Sussex, with its Downs, High Weald forests, coast, estuaries and harbours is one of the best counties for plants, especially native orchids, insects and over-wintering birds.
The challenge to present such diversity is what to leave out.
In my talks below, I have strived to produce a balance of interest to all – now including St. Lucia!
"The Natural Year in Focus; July to December"
July and August are marvellous months on the Downs. The yellow cowslips and primroses of Spring give way to the blues of the bellflowers; "The Pride of Sussex", harebells and others. The variable numbers of butterflies from year to year are looked at in this chronicle of plant, insect and bird life, month by month.
Southern Marsh-orchid in July, right
"The turbulent history of the Adur valley, seven 1,000 year old churches and the rise and brutal downfall of the Norman De Braose family."
This talk extensively shows the beautiful churches at Steyning, Upper Beeding, Botolphes, Coombes, Old and New Shoreham. The transition from Norman to English church styles is illustrated. The causes of "abandoned" villages like Botolphes is discussed.
After the Norman conquest, De Braose was given the rape of Bramber. The demise of his grandson is chilling in the brutality of King John.
"The influence of invasions on the English language."
looks at place names and English history... revealed in our language". For example, the suffix "-ham" dominates Sussex and is absent in areas of the north where -"by" prevails. Danish words are still in dialect and the Normans gave us "dents de lion", picture right.
And just why does our tax year start on 6th April… all is revealed.
"The American Revolutionary war
or War of Independence, 1775-1783."
Preceding factors and the war itself are explained using contemporary documents and paintings, plus Peter's own graphics and photographs from Massachusetts from May 2012.
The American portrait painter, Copley vividly illustrates the key players from both sides adding vibrancy to this dynamic presentation of events. Click here to go to this talk page.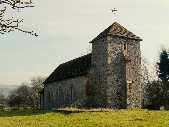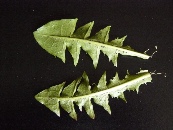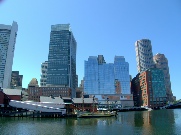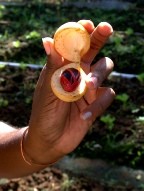 "The exotic spices, nuts, fruits, vegetables, plants and insects of St. Lucia"
From a walking holiday in the rainforests, plantations and coasts of St. Lucia in January 2013, you can now see how nutmeg, mace, cashews, cinnamon, turmeric, ginger, yams, coconuts, bananas, plantains, cassava, breadfruit, grapefruit, almonds, cocoa, vanilla, papaya, orchids, insects and more thrive in this tropical paradise.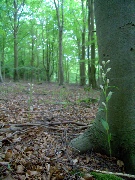 Some TV ad's suggest that bacteria must be killed! Yet our bread, beer, wine & whisky, milk, cheese & yoghurt, beef , Quorn, biofuels, sewage works, farming and our own well being all depend on microorganisms. Our digestive system functions smoothly only in harmony with our natural bacterial gut flora.
Designed for non-scientists, this talk looks at types of microorganisms, the historical heroes of microbiology, good and not-so-good bugs, global threats (pandemics, running out of oil) and inter alia, food safety (how to avoid food poisoning). And just how did Salmonella bacteria get into powdered baby milk? There is a lot to talk about and I anticipate some lively discussions afterwards.
As an experiment you can see the visuals of this talk before you order it!
You can see what I will show (but NOT what I will say & explain) by clicking a link to the innovative software house that I use for this talk. If you take a look, please ignore the "Prezi stuff" at the top of the screen. You need to click the "full screen" icon (like a little TV screen) at the bottom right of my presentation. Then click "Allow full screen with keyboard control". Then use your right arrow key to move through the presentation. You will first see an overview of the aspects of microbiology that will be covered.; types of bugs; historical heroes; good & pathogenic bugs; the natural world; biofuels and bioplastics; and finally food safety in the kitchen. Then you will see how the talk focuses in onto the detailed subject matter. Without the script, you will struggle to appreciate what on earth I will say! However, at least you will appreciate the scope of the talk, which is subject to change as what you see is a first revision. So if you have a really good imagination and/or have heard me talk before, please take a look at this link http://prezi.com/dtuaqf2i2tkn/?utm_campaign=share&utm_medium=copy
*Well Qualified
My science degree, (B.Sc.in Applied Biology; Biochemistry & Microbiology) & experience as managing director of a British company manufacturing and selling worldwide, an automated microbiological testing instrument qualifies me to speak on this subject matter. Our customers included diverse food companies and governmental labs in the UK, The Netherlands and France. From my business and academic background you may gain insight into microbiology in our every day lives from cut flowers from The Netherlands to Salmonella in eggs and poultry, BSE. & DNA genotyping.
"Microbiology in our everyday lives"…
A NEW talk for 2014 and one that I'm well qualified* to deliver.